Vicinity Map
The Veteran's Affairs Medical Center (VAMC, formerly the Veteran's Administration) is in center of the map below, at the north end of the Hampton Roads Bridge Tunnel on I-64, close to Fort Monroe.
From I-64 (Williamsburg or Norfolk directions), take exit #268. Turn west onto Mallory Street. Take Franklin Blvd to the left, along the water. Pass the main hospital, then turn right onto Thompson St. Park in the lot to the left, just before Averill Ave. The Education/Training Building (Bldg #83) is the orange brick building on the far side of Averill Ave.
From Smithfield and Carrolton, take Route 17 north, across the James River Bridge. Follow Mercury Blvd (Route 258) to I-64 East. Follow the instructions above for access from I-64.
From the Portsmouth area, take I-664 across the Monitor Merrimac Bridge Tunnel. Follow I-664 to I-64 East. Then follow the instructions above for the access from I-64.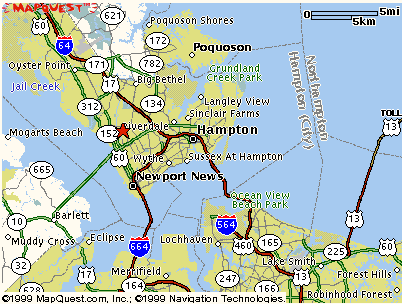 For a local map of the Veterans Affairs Medical Center, please return to the home page (Index) of the user group website. Hope to see you at the next meeting.

Last time this page was updated: July 28, 2000.