Burgener's Home and Contact Information. Last update: February 6th, 2001

Welcome to our new home. Although there's still lots of stuff to package and move, we settled into the new house and spent the night on Saturday, November 4th.

Swing by and visit us any time. We moved into Village Green (see map below), a well maintained neighborhood, in central Newport News, just a stone throw off I-64.

This webpage may not last long, so please print out and file the map below. It's got phone numbers and email addresses for us, that hopefully will be good for several years. If the map doesn't print out well, here's the contact information, for good measure:

The Burgeners: 757/249-8835, 568 Crown Pt Dr., Newport News, VA 23602-7007
Jean Ann: jabbur42@bigfoot.com, work: 873-3338
Paul: home: Burgener@Bigfoot.com, work: 599-1166
work: BurgeneP@tea-emh1.army.mil
Matt: MWizardB@Juno.com
Nick: HawkEyeNB@Bigfoot.com




The new house seems large now, but I'm sure we'll clutter it up just as bad as we did the old house (see the clean-up list of stuff we gathered and hope to find homes for, at: http://members.tripod.com/seva-aug/clean-up.html )

Below are a couple photos of the new house, taken during the inspection.



Burgeners' New House, Front and Rear Views.

And for good measure, here's an old shot of the four of us.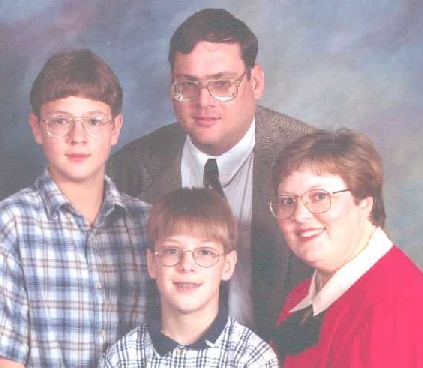 The Burgeners, Paul, Jean Ann, Matt (left) and Nick.